10,000 ETH collected! Let's start the revolution!
10,000 ETH collected! Let's start the revolution!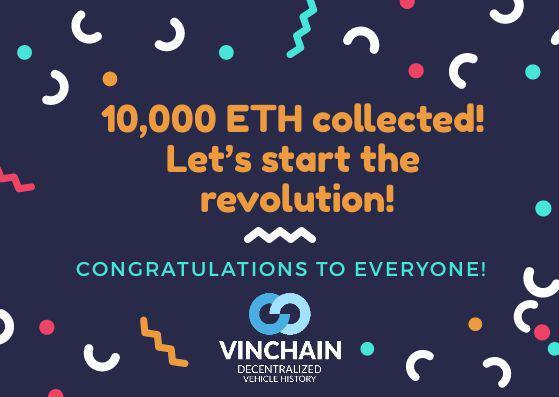 Congratulations to everyone! We've reached an incredible milestone by collecting 10,000 ETH during our ICO period.

We want to give special thanks to everyone who has been with us, supporting VINchain and our commitment to evolve the automotive industry! We are extremely grateful to have a talented team and the best community we could ever ask for. Our ICO is coming to an end, and we couldn't be happier with the results. We're extremely grateful for the connections we've made and the people we've met along the way.

We have another exciting announcement to share—our blockchain is almost ready! We are in the process of running final tests and forming hashes on the data we have, you can check it out yourself on our Github (https://github.com/VINChain).

We still have little time left as our ICO will be held till the 15th of April. If you want to be part of the VINchain revolution, join now!

If you want to secure the most maximal discount that we offer, hurry and contribute to our project.
Detailed instructions on how to contribute can be found here.

If you have any questions join us on Telegram where you can get help any time a day (https://t.me/vinchainio). Join our community of over 13,000 people along with our CEO and founders to be part of the VINchain family.

Join our announcement group (https://t.me/VINChainOfficialAnnouncements)!
Subscribe to Our Newsletter
38 409 people have already subscribed
We use cookies to personalise content for you and to analyse our traffic.