Live with Alex Miles April 10, 1:20 PM EST.
Live with Alex Miles April 10, 1:20 PM EST.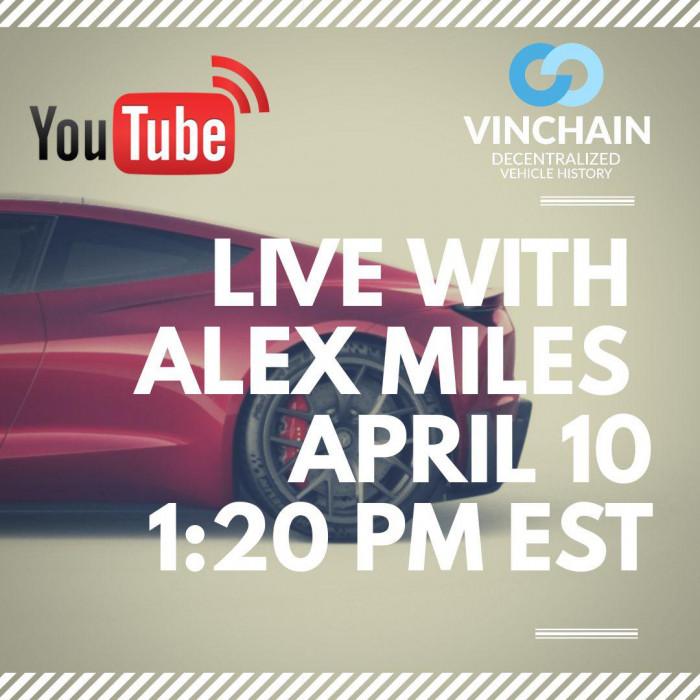 Dear VINchain community!
We are glad to announce that our ICO is almost finished! It has been a great period of time during which we have made so many partnerships, attract people to our community and raised funds to start our project! Right now we want to announce that we will have another webinar with our CEO Alex Miles!
There you will know all the information about the process of our ICO, all the results that we have so far, the future of the project, all the next steps that will be taken. This week we are going to launch our blockchain, so there will be information about this as well! Also Alex will explain all the details about the news that we received the information on 250 mln new cars from our partners, we have already started to make hashes on that info, the raise in contribution from A Better Bid and how it all will go!
Our webinar will be in Tuesday, so don't miss it! Alex will be live straight from the Digital Dealer Conference & Expo (digitaldealer.com) in Orlando. Here is the link for it! Don't miss this great chance to learn more about us!
Also we want to remind that we are at the fourth stage of our ICO right now which mean that you will get 15% bonus for your purchase! Hurry up and join us now!
If you want to secure the most maximal discount that we offer, hurry and contribute to our project.
Detailed instructions on how to contribute can be found here.
If you have any question don't hesitate to contact us through telegram . Help is available 24 hours a day, 7 days a week—In fact, we are so serious about customer satisfaction, you can even talk to the CEO and founders firsthand.
Join our announcement group here.
Subscribe to Our Newsletter
38 404 people have already subscribed
We use cookies to personalise content for you and to analyse our traffic.