More security for your account
More security for your account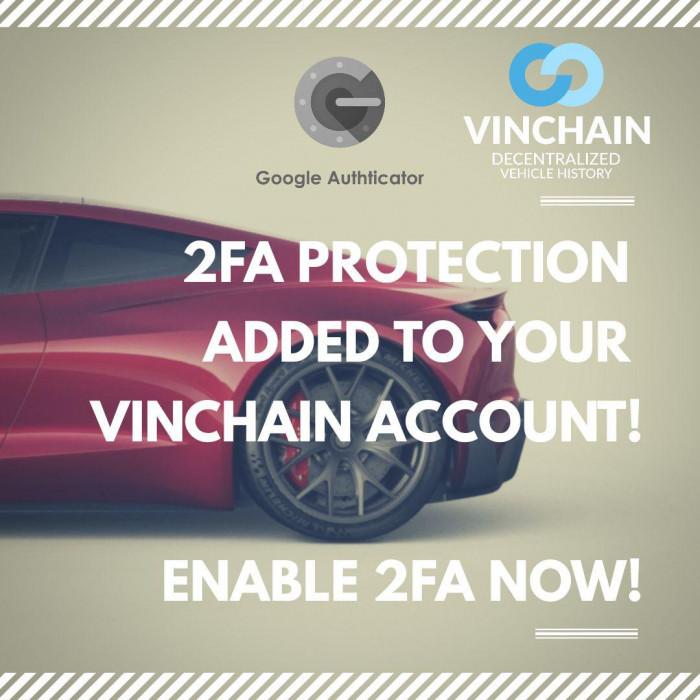 As we continue to develop our platform, we continually add more useful features. Today we are happy to announce that we have added 2FA (two-factor authentication) to all VINchain accounts. At this moment it is not mandatory to enable it (but it is very strongly recommended).
Very soon when our VINchain Wallet is live, it will be mandatory for everyone to protect their account with 2FA, so might as well enable it now Instructions can be found here. It will takes just a few minutes, so make sure your tokens and information stays safe!
Enable 2FA Security for your Account
Also we want to remind you that our ICO will be finished tomorrow! So right now you have the last chance to contribute! You can still get a 15% bonus if you act fast and contribute now! Join the revolution and let's create a better world together!
If you want to secure the most maximal discount that we offer, hurry and contribute to our project.
Detailed instructions on how to contribute can be found here.
If you have any questions join us on Telegram where you can get help any time a day (https://t.me/vinchainio). Join our community of over 13,000 people along with our CEO and founders to be part of the VINchain family.

Join our announcement group, after the end of ICO all the news will be here (https://t.me/VINChainOfficialAnnouncements)!
Subscribe to Our Newsletter
38 410 people have already subscribed
We use cookies to personalise content for you and to analyse our traffic.