Only 80 ETH left with 25% bonus! Hurry up!
Only 80 ETH left with 25% bonus! Hurry up!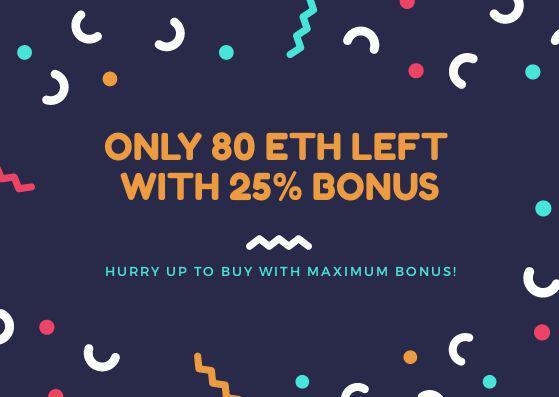 We are trying to reach as many people as possible with our message, and we've been fortunate enough to be successful in this thanks to the excitement of our incredible community. While spreading our vision globally, we have also been searching for large-scale investors who are ready to support the project through its development period. While this is not an easy goal to accomplish during the Initial Coin Offering (ICO), we are happy to announce we have obtained exactly this type of valuable long-term partnership from a private investor.
We also want to thank you for the continued support and for being the best community we could ask for. We reached our soft cap goal not long ago and are still able to offer a 25% bonus on top of VIN token purchases. There are only a 80 ETH remaining with this bonus, so don't miss out on the best offer. After we reach our next stage at 4950 Ethereum (ETH) the bonus will drop to 20%.
We are proud to announce that we recently launched the alpha version of the VINchain App for Android, and are continuing to post updates. Download to test it now to see what we have been working on firsthand. At VINchain, we are able to keep our promises and reach our goals entirely thanks to the support of our incredible community and talented team.
If you have any questions, don't hesitate to contact us through our Telegram, where help is available 24 hours a day, 7 days a week. In fact, we are so serious about customer satisfaction at VINchain, you can even talk to the CEO and founders firsthand.
Subscribe to Our Newsletter
38 404 people have already subscribed
We use cookies to personalise content for you and to analyse our traffic.