Stage 3 is almost finished!
Stage 3 is almost finished!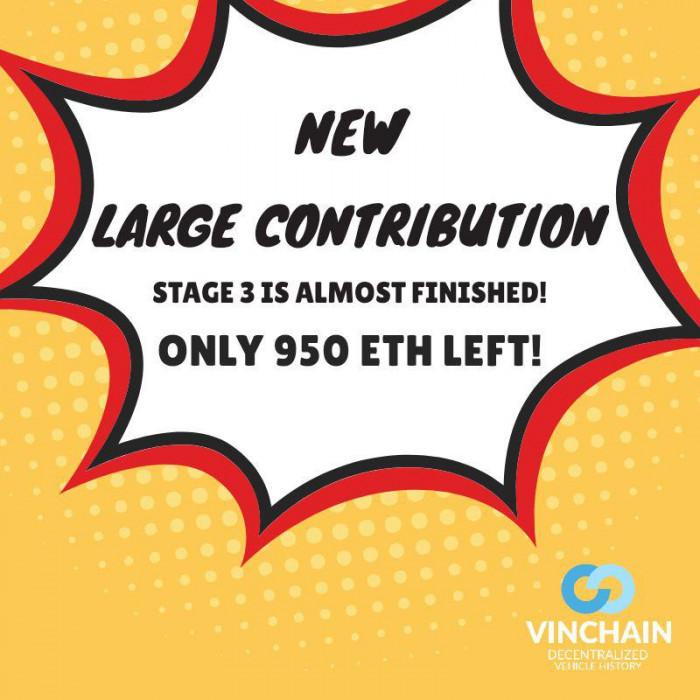 Hello VINchain Community,
We are very happy to announce that we got a large contribution (74 BTC) and stage 3 is almost finished! This is great news for us and we are elated that the VINchain community is so supportive. This also means that we have a very limited amount of tokens left with a 20% bonus. There is only 950 ETH left in this stage!
If you want to secure the most maximal discount that we offer, hurry and contribute to our project.
Detailed instructions on how to contribute can be found here.
We have come a long way, and since the start of our ICO we collected a total of 7660 ETH. We are very grateful for our community. We are working hard to achieve our goals. If you have been following our recent updates, we have some very exciting news:
Donald G. Stephenson joined the team as our valued adviser.

Donald is the President of Alleghany Management Inc. and is the former Senior Vice President of Volkswagen

Check out his profile here

The second version of our mobile app is out in the Google Play store, download it here

The iOS app is coming soon
If you have any question don't hesitate to contact us through telegram. Help is available 24 hours a day, 7 days a week—In fact, we are so serious about customer satisfaction, you can even talk to the CEO and founders firsthand.
Subscribe to Our Newsletter
38 404 people have already subscribed
We use cookies to personalise content for you and to analyse our traffic.