The second stage is closed with 4950 ETH collected!
The second stage is closed with 4950 ETH collected!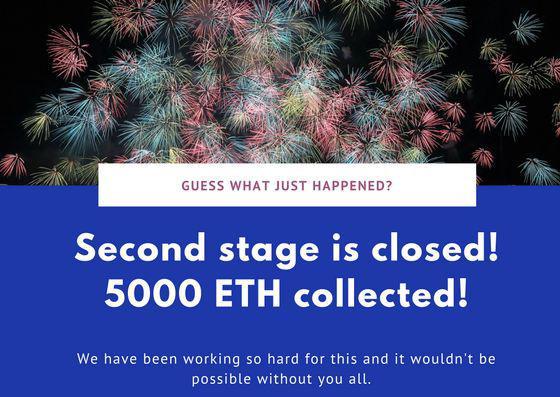 Dear VINchain community!
Guess what just happened!? We have just closed the second stage of our ICO! That means that we have collected 4950 ETH and we are extremely happy about that! We have been working so hard for this and it wouldn't be possible without you all. Project is growing really fast now, almost everyday we have something new about it: new advisors or members of the team, some conferences that we are attending, meetings, developing of the products that we have. All this hard work helped us to achieve such results so far! We want to remind you that our ICO will be held till the 15th of April so you still have time to Join us! Right now we will have 20% bonus as we are at the third stage now, so you will receive 24 000 VIN tokens for 1 ETH!
Also don't forget to check our alpha version of the VINchain App. Download to test it now to see what we have been working on firsthand. At VINchain, we are able to keep our promises and reach our goals entirely thanks to the support of our incredible community and talented team.
If you have any questions, don't hesitate to contact us through our Telegram, where help is available 24 hours a day, 7 days a week. In fact, we are so serious about customer satisfaction at VINchain, you can even talk to the CEO and founders firsthand.
Subscribe to Our Newsletter
38 410 people have already subscribed
We use cookies to personalise content for you and to analyse our traffic.