VINchain will be attending the Digital Dealer Conference & Expo in Orlando!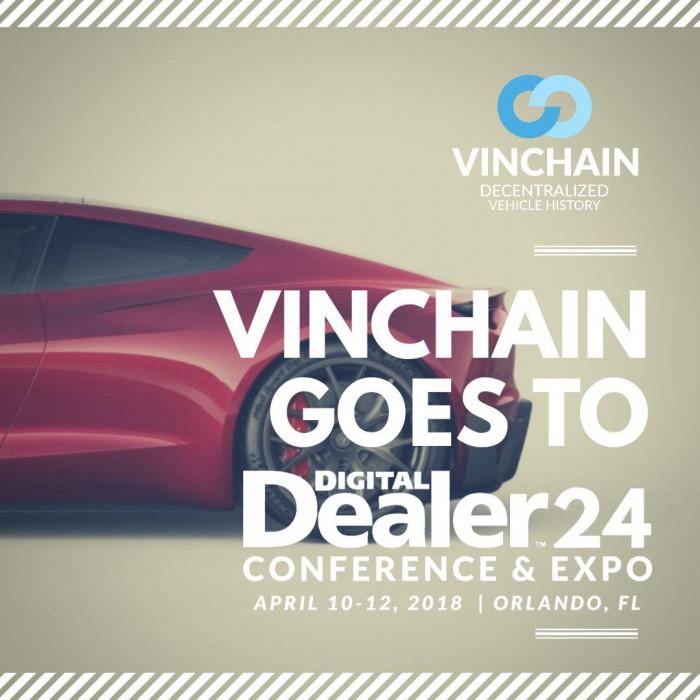 News
Hello VINchain community,
We're excited to announce that we will be attending the Digital Dealer Conference & Expo (digitaldealer.com) in Orlando from the 10th to 12th of April. The Digital Dealer Conference is home to the cutting edge of the automotive industry, showcasing advancements in technology, latest trends and most innovative companies. It's a massive event sponsored by titans like Autotrader, Dealer.com and Kelly Blue Book that will put VINchain in league with like-minded disruptors of the automotive industry.
If you want to secure the most maximal discount that we offer, hurry and contribute to our project.
Detailed instructions on how to contribute can be found here.
Networking opportunities like this are best way to spread word of the incredible potential of VINchain, and to attract others interested in the technology. Many already see the wealth of potential created by VINchain's decentralized database and are ready to share their experience and excitement. We are grateful to have a platform to accelerate the development of VINchain and foster partnerships which will assist us as we continue to spread globally.
Thank you again for your continued support. If you're attending the conference come say hello at booth 810!
If you have any question don't hesitate to contact us through Telegram. Help is available 24 hours a day, 7 days a week—In fact, we are so serious about customer satisfaction, you can even talk to the CEO and founders firsthand.

Join our Official Announcement Channel on Telegram!
Subscribe to Our Newsletter
38 282 people have already subscribed
We use cookies to personalise content for you and to analyse our traffic.