Buy or get paid for shared vehicle data on the most secure platform ever existed!
Pioneer blockchain based vehicle data marketplace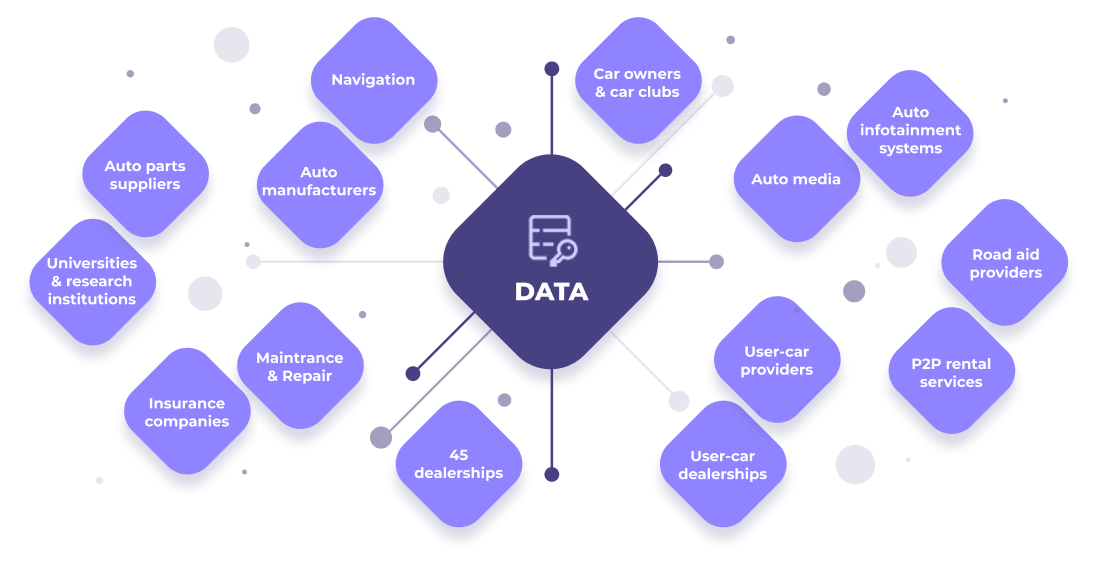 Advantage

gained from VINchain Data Marketplace —

who and how?

VINchain is the world's first blockchain based marketplace dedicated to car data transfers. It is a ready made product to start a secure data exchange between the system participants. Every single player from the automotive domain like manufactures, insurance companies, dealers, nearest service stations, car owners and so on can right away start as sellers and buyers.

Vinchain platform serves as a set of tools empowered with VINchain tokens for fast and smooth data transactions. Data is the future fuel of the whole automotive industry. To keep it in your VIN chain system means to accurately prepare for tomorrow. VINchain is the first ready made platform to host the whole data exchange process in one system. If you are a manufacturer, vehicle data aggregator, dealer, bank, insurance company or you have car information try yourself as a VINchain data partner and check out all of the benefits you'll enjoy!
VINchain compensates all data providers every time their data is used with VIN tokens — dealerships and customers both get paid
VIN tokens are worth real money and can be used in the system for data purchases, like vehicle history reports or live driver data
Benefit and interest

for the entire automotive industry scored from VINchain Data Marketplace —

how?
Data standard accepted by all in the automotive industry
VINchain is already operating as a marketplace. You can buy high-quality standardized automotive data via the central entity, which aggregates all the data and ensures its credibility and legitimacy.
Collective sell and buy process
The data completeness while taking decisions on buying or developing your business is highly essential for each market participant.
You can buy high quality standardized automotive data via the central entity which aggregates all the data from numerous providers in one place.
Trustworthy, quick and comfortable data supply
Speed and openness are the most essential that the data marketplace should have. We strongly tested our marketplace with our partners and are ready for processing big data amounts.
Your data monetization tool
The data is daily accumulated by numerous medium or small sized companies all over the world: service shops, dealerships and even regular car owners. Don't miss your chance to benefit from this data.
Assured data liquidity — how?
The demand for accurate data is overwhelming while the supply is insufficient.
We daily receive data demands and understand that we are in need of more data to meet them.
Check the sites of our partners to see how the data available on the platform VINchain Data Marketplace is made good use
Wish to learn more about your
benefits and perks?
OEMs
Rewarding the drivers with tokens in exchange for the data they can share can be a lucrative incentive to gain their official consent for subsequent usage of the personal driving data.
The entire system is developed on top of blockchain technology which is fully transparent and makes all data easily tracked.
Sharing data can cover expenses on vehicle history data for new clients.
Analysis on fully transparent data makes better warranty programs available.
Pojištovny
Sharing vehicle data makes insurance programs more customer tailored.
A complete and immutable driving history of the insured makes the insurance plans more data motivated and less human biased.
The blockchain technology data makes insurance plans more indisputable.
Be the first one who will profit from the vehicle data
The data is about to become a pivotal feed of the whole automotive industry of tomorrow. VINchain Data Marketplace is a pathfinder in the data connected ecosystem which already enjoys a finalized platform to host data exchange.
We respect your privacy
Join us today to help us create the future of the automotive industry!